What is DAS training?
The Direct Access Scheme (DAS) is designed for riders over 24 years old, who wish to take their category A licence (unrestricted) and ride 'Big Bikes'. After completing a CBT (usually on a 125cc bike) DAS training is done on a 600cc (or larger) machine. After familiarisation training with a larger machine, you will be taken to a test center to practice the exercises tested during module one. After successfully completing module one, further training is then done for module two, the road ride. When you pass this you can ride any bike, of any size, with no restrictions. Course lengths are determined by the individual's level of skill and competence – novice riders will naturally require more training than experienced riders. The number of days spent on training is advised by our instructors after a free assessment of your riding skill. They are also happy to discuss your needs as a rider and offer the best training package to meet those needs.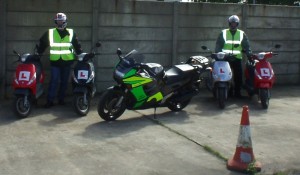 Requirements for taking DAS
Holding a category A licence will entitle you to ride any size or power of motorcycle.
To take this test you must:
Be a minimum of 24 years old or 21 years old and have held a category A2 licence for at least 2 years.
Hold a valid CBT or have held a category A2 licence for at least 2 years
Hold a valid theory test certificate or have held a category A2 licence for at least 2 years
This course is designed to prepare candidates for their category A motorcycle practical test. This test must be taken on a bike of at least 40kW(53.6bhp). We can provide a suitable bike or if you wish to use your own motorcycle it must meet the following criteria:
Be a solo motorcycle
Be at least 600cc
Be at least 40kW engine power
Have a valid MOT certificate
Have a valid certificate of insurance
This category of licence allows the rider to operate machines of any size or power, ride without L plates, carry passengers and ride on motorways.
Our category A courses are designed for people who wish to get straight onto larger bikes, carry passengers and ride on motorways. The category A licence is also of particular interest to riders over 21 years of age who have held a category A2 licence for at least 2 years
What do I do next?
We can train you from complete novice through to riding 'Big Bikes', or begin at any point in between. Your first step is to undergo a CBT course. From there, arrange  to sit the Theory Test, which you must pass before your practical test. We have the theory test on computer in our classroom and students may practice as much as they wish prior to the actual test. After an agreed number of days training we will accompany you to a nominated test centre, where you will carry out the practical test.
Contact us for further details, availability and costs.
Whatever the course, you can rest assured that you are being trained by some of the best and most highly qualified instructors available.
Why not get in touch and take the first step in passing your motorcycle test?
Intensive courses are our speciality!